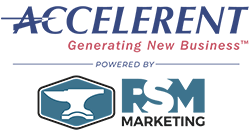 Accelerent – Kansas City
Improve your sales through high caliber introductions to key decision makers
Close faster, and more often, with Accelerent's customized business development platform.
Accelerent has developed an efficient and effective methodology for companies targeting the middle market. Accelerent's system offers a powerful process for building long-term relationships that result in warm referrals to valuable decision makers.
Introductions from trusted sources not only improve your odds of success, but they also can result in the best customers. Accelerent takes this concept to a whole new level.
Contact us today to find out if your business category is available.
Now interviewing COMPANIES IN THE FOLLOWING INDUSTRIES
Construction
Professional Services
Healthcare
IT